Project: "Directions"__Concept and Audiocontent for the Audio/Video Installation inside the TV-Tower Cupola in Dortmund, Germany
Informationen auf Deutsch: HIER
"Directions" is an immersive Audio/Video Installation, created specifically for the rotating cupola inside the TV tower of Dortmund (Germany), using multichannel immersive audio, multiple projectors and specifically created light-objects
Motion Graphics by FLIGHTGRAF from Tokyo, Japan.
This work is a meditation on the theme of human orientation - and how it is rapidly changing nowadays. After using the stars for thousands of years, as well as compasses and increasingly precise maps during the last centuries, to actively orientate ourselves - just within the last years a large part of the global civilisation is handing over this responsibility to GPS-satellite-driven navigation systems, and the invisible technology / data sources ooperating them; changing the procedure from an active process involving the use of the human mind and senses to a completely passive process of blindly following the digital voices leading the way.
"Directions" is a free artistic approach to this topic, using music, voiceover texts, abstract sounds and projections - with all these elements being in a continous motion and moving in different circular orbits.
A 26.4 sound system on the outside ring, as well as additional speakers behind the screen on the inside ring, all driven by an Iosono spatial audio system provided by BARCO Audio, enable audio "objects" to move around freely through the room. A number of videoprojectors light up the circular screen on the inside ring with motion graphics created by FLIGHTGRAF / Kento Tomiyoshi from Tokyo (Japan), depicting a red line resembling a radar constantly moving in a circle. Underneath this radar (another technical means of human orientation) pictures of lumious civilisatory nodes on the surface of the earth at night, taken from the perspective of the GPS-satellites, are temporarily revealed. Different continents are seen simultaneously as if there was no sunlight anywhere around the globe at this moment - an impression corresponding with the view from the tower during the opening hours. Small combinations of letters and numbers , representing the GPS-satellites on their paths and showing their true identification names, are drifting over the screen and sometimes the graphic terrestrial surface, and through the window reflections, merge with the reality outside of the windows.
The texts are quotes from quantum physics, old fairy tales, fiction books, internet-research bases and navigation systems leading the way from the studio to the venue (voices from Google Maps, TomTom and Apple).
Another important aspect of the installation is the moving floor  ... driven by a motor to propel the former (now empty) revolving restaurant within the room, the visitors are being moved through the installation ... providing new combinations of music, text, sounds and visuals at any point in time and position inside this seemingly borderless, infinite room without a starting or ending point.
Very special thanks to:
City of Dortmund / Westfalenparkbüro  /  MUTO Heimatgastronomie  /  BARCO Audio Technologies  /  HÖHNERBACH Veranstaltungstechnik  /  SEEBURG ACOUSTIC LINE speaker systems  /  RADISSON BLU Hotel Dortmund  /  VISION TOOLS Medientechnik  /  Ringhotel DREES Dortmund
Informationen auf Deutsch: HIER
"Directions" is an immersive Audio/Video Installation, created specifically for the rotating cupola inside the TV tower of Dortmund (Germany), using multichannel immersive audio, multiple projectors and specifically created light-objects
...show more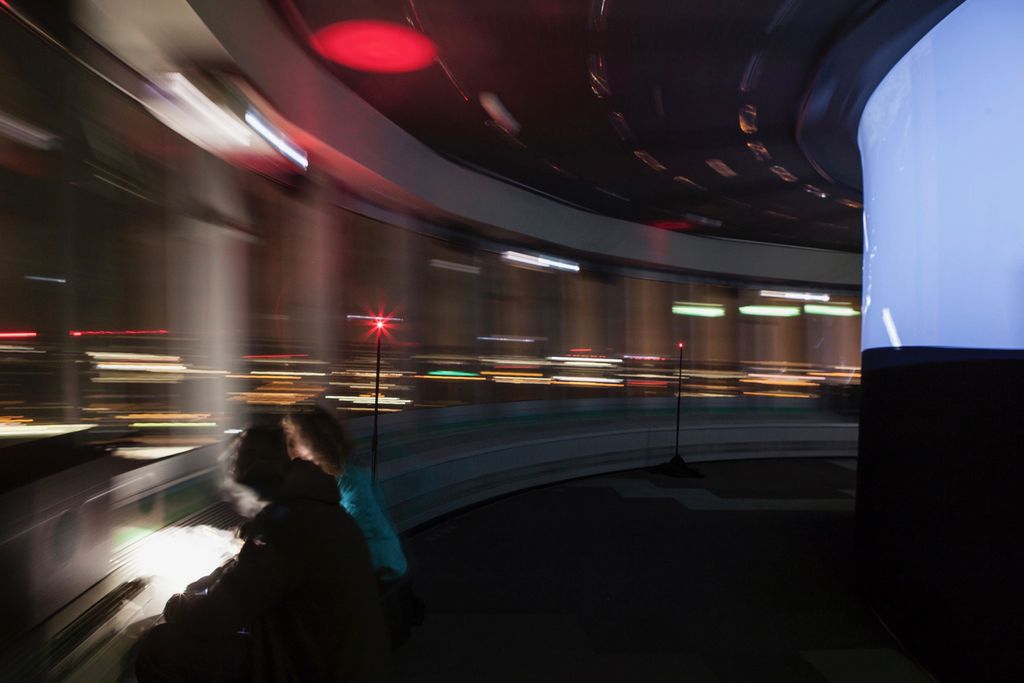 Photo: Sarah Ruholl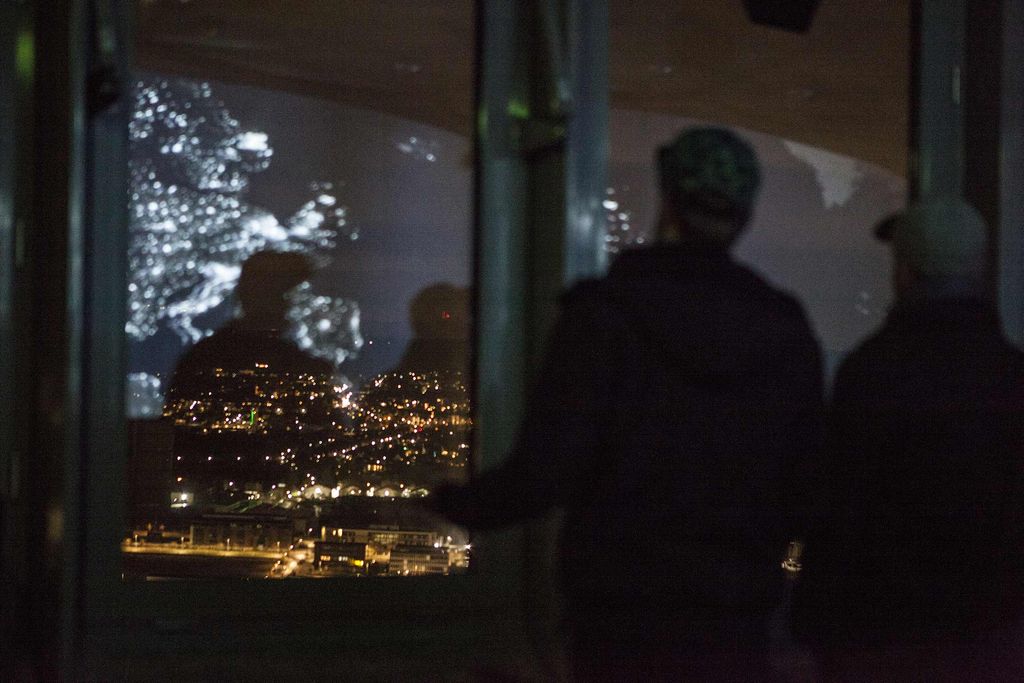 Photo: Sarah Ruholl